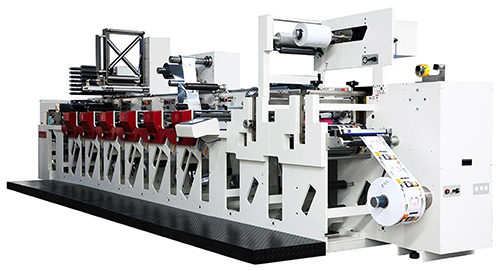 The F3 flexo printing press is a servo driven flexographic press, and was developed in 2013. The F3 printing press can print up to 12 colors, and can be used for both printing and post processing tapes, such as film (shrink wrap, wrap-around tapes), stickers and packaging materials. Customers around the world, including those in both Malaysia and Russia have found it to be an effective tool.
This flexographic label printing machine is well designed, with an easy to change printing job. Job changing takes only 20 minutes. During printing job change, material waste is around 30 meters, while the web change material is loss 10 meters only.
Printing products
Suitable material: PP film, PET film, aluminum foil, paper, adhesive tape, shrink sleeve.
Thickness of material: 0.0012-0.4mm
Parameter
| | |
| --- | --- |
| Speed | 150m/min |
| Max web width | 330 or 430 mm |
| Repeat length | 229mm-502 mm |
| Max. unwind diameter | 760 or 1000 mm |
| Max. units | 12Units |
| Max. rewind diameter | 760 or 1000 mm |
| UV curing power | 400 w/inch |
Features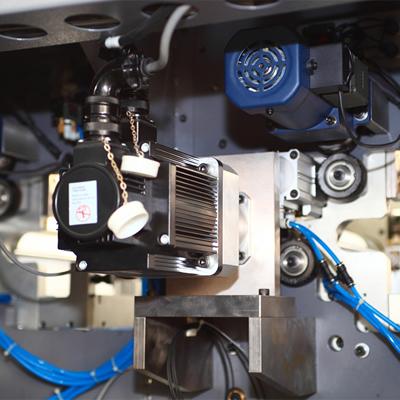 1. Servo drive
Built-in full servo driven system offers more capabilities which makes the operation much easier, stable and eliminates bar marking effectively.
2. Short web path design
Short web path design for only 1.3 meter within a printing station can reduce material waste during start up and printing job change .Because total footage of a system equipped with eight colors printing plus two die stations is less than 15 meters.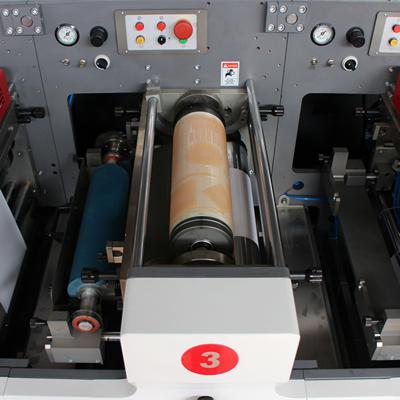 3. Pre-registration and pre-pressure setting
Pre-registration and Pre-determined pressure mechanism will maintain anilox pressure and impression pressure after plate cylinder changed to shorten the time of jogging and reduce substrate waste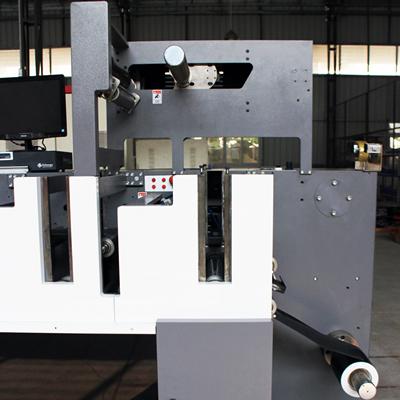 4. Nip device on waste rewind
Nip device on waste rewind to guarantee waste matrix to be unbreakable during high speed production which increases effectiveness and yield of production since we can push matrix width to the minimum required by the cutting edge of knife.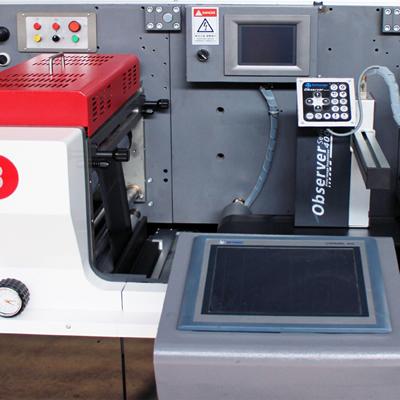 5. Advanced tension control device
With an advanced tension control device, the lables on 12 micron film, sticker and paper board can all be printed using the F5 flexo printing press. Change of operating speed will not affect registration. There is no waste during jogging and all the way up to production speed.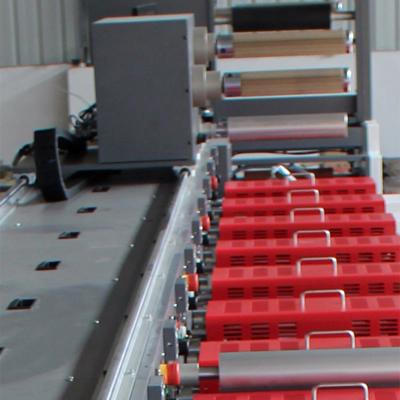 6. Movable rail
Movable rail makes the flexo press earier extend more options, including a delam/relam device, UV rotary screen, turn bar, die cut, screen print, laminating and cold foil.
7. Lock ink cassette by air cylinder
Lock ink cassette by air cylinder, Which makes operation easier and more quickly change. Separated Anilox with in pan, as well as avoids the removal of the anilox roll when changing the ink.
8. Drying
Drying options include hot air and UV drying (or LED UV). UV drying equipment is from Europe, and self-designed hot air drying enables solid printing to be dried at 40℃ at 150 m/min.
9. The control system can record and recall process parameters of different materials.
10.The water cooled UV curing system, ensures materials maintain a suitable temperature when UV drying, and is suitable for the processing of thermal deformation materials.
11. It is equipped with an internet access function so that all devices can be remotely maintained and upgraded.
Index
flexographic printing, color printing, flexo printing machines, printing machinery